Sterling Debt Recovery has been collecting debts for recruitment agencies since 2007. Since then the sector has become a special focus of our debt collection business, with some of our collection agents dedicated solely to collecting for recruitment agency clients.
You can read more about our services to the recruitment industry on our dedicated site www.recruitmentdebtcollection.com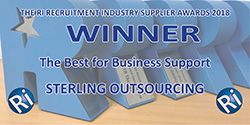 The RI Recruitment Industry Supplier Awards are decided by the recruitment industry itself!  The highly coveted awards are both independent and a true reflection of quality standards.
It is our customers – the recruitment agencies themselves who are the judges!
Thank you to our clients for your votes!